A significant percentage of the housing stock in major urban areas in Ireland is in excess of 100 years old. Financial Institutions automatically require a detailed building survey or structural survey in the case of all such properties before mortgage approval will be sanctioned. As well as being a requirement towards gaining mortgage approval, our period property surveys will fully informed you as to the condition of the property.
In our experience, clients tend to underestimate the works required to renovate older properties which is why engaging a experienced Chartered Building Surveyor with expertise in this niche area of surveying is essential.
Kelleher & Associates hold specific qualifications and have considerable experience in the conservation and repair of period buildings making us your ideal partner to undertake inspections of such properties. Our structural surveys provide detailed and practical advice on the appropriate repairs needed to address common issues affecting period properties such as:
Appropriate repairs to address rising and penetrating damp
Appropriate remedial works to address and stabilise structural movement affecting internal and external walls
Appropriate techniques to repair damage to period timbers affected by rot or wood boring insect damage
Repairs to overhaul historic windows
Appropriate further investigations considering the limitation of a visual survey
Appropriate repairs to overhaul period roof structures
Specialist Drone Technology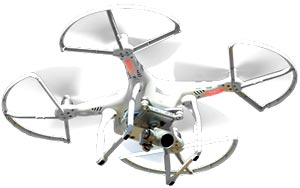 Kelleher & Associates use drone technology to conduct detailed roof and chimney inspections providing our Clients with the most comprehensive reports on the condition of even the most inaccessible parts of a building.
A specific section of our report provides advice on whether the property you are purchasing is in an Architectural Conservation Area or is a Protected Structure. This may affect the extent of planned renovation works planned and may increase costs.
Conservation Reports
Conservation Reports are an essential requirement in advance of planned works to Protected Structures. Such reports typically contain the following information:
Historical background of property and area
Architectural record and inventory
Statement of significance
Condition report
Conservation specification
Sample Defects Encountered in Period Properties
Structural Movement Affecting Period Facade with Crack Discs attached
Uneven Suspended Timber Floor Surface
Rising Dampness & Wet Rot
Damaged Roof Surface & Debris Laden Inner Valley Gutter
We provide Conservation Services in Galway, Limerick, Dublin and surrounding counties. To book your building survey simply fill in the quick query form or call us in Dublin on 01 6856935 or Galway on 091-399935.